Healthy buildings and environment
The impact of the environment on the efficiency of both people and machines is sufficiently demonstrated by a number of renowned studies. At the same time, it is stated that we currently spend up to 90% of our time in buildings.
Productivity
Offices, rooms, warehouses, production halls
The ability to monitor and respond to different environmental parameters is therefore one of the key aspects of the smart environment of buildings, offices, production halls, warehouses, shops, medical facilities and other premises. As with other IoT (Internet of Things) areas, it is important to link data collection with subsequent evaluation and response. There are currently a number of tools for data collection or management of building technologies. But they are often isolated islands within a building or technology, unconnected. It is therefore important to link systems and ensure action based on different inputs.

Most often measured and monitored
Temperature, humidity, light, noise level, dust, CO2, VOC
Number of people and movement, entrances, occupancy of rooms, tables/chairs
Presence of smoke, fire detection
Outdoor environment including the light of parts of buildings by the sun
Most frequently controlled technologies
HVAC, heating, AC, air flow
Light
Blinds and other shading technology
Access system
Common scenarios for smart buildings and spaces
Healthy and productive environment
Optimize and save costs by monitoring and evaluating space behavior
Increase worker productivity and health due to optimal conditions (heat, humidity, CO2, light, noise)
Healthy Buildings and Offices
Track space usage
Analysis of the use of premises for development and use planning, cost savings (meeting rooms, use of tables, parking spaces, …)
Reservation system for parking and office spaces / desks  (+integration for heating/cooling)
Efficient waste management
Monitoring the filling of waste containers
Reactive collection according to current fill
Fill analysis for planning the number of collections, containers, recommendations for waste management optimization
Protection of buildings, technologies and goods
Protection of building structures against degradation by preventing mold, dampness, high temperatures, etc….
Monitoring of storage and transport conditions of goods including compliance with production or legislative conditions and standards (pharmacy, food industry…)
Ensuring optimal conditions and response to failures/risks for technological rooms (boiler rooms, technical facilities, transfer stations, server rooms,…)
Early warning in case of impending or ongoing smoking of the area or fire
Predictive and reactive cleaning
Request cleaning at the touch of a button
Detection of cleaning needs based on environmental parameters (higher number of people in the meeting room detected, increased CO2 concentration etc.)
Cleaning planning taking into account room usage (no need for daily cleaning in rooms where there is no movement due to absence)
Different needs, one solution

A powerful environment for connecting data about assets, energy, environment and people.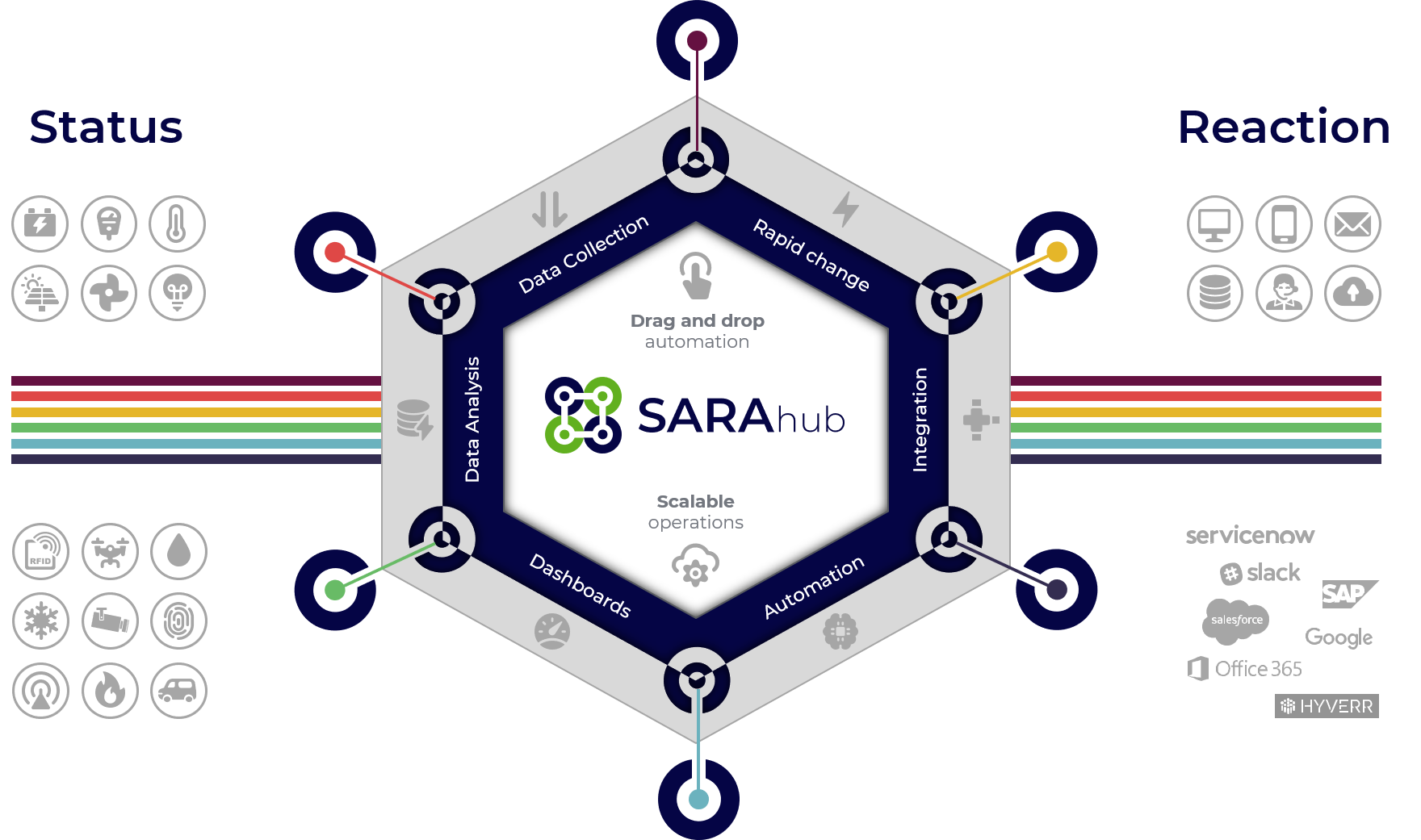 Take your assets to the next level.