A ONE powerful environment for monitoring assets and reacting to important changes.

SARAhub (Smart Assets Rapid Action) is easy-to-use environment for highly responsive IoT. SARAhub acts as a central nervous system for your assets – receiving information, processing it and triggering action when necessary in response to important events. It enables you to displays sensors and devices in hierarchical dashboards, creating digital twin of your environment. It allows you to set up automated responses to specific situations, data consolidation, and many other features
Integration and responsiveness are key advantages of SARA.hub. Integration of both different systems on input and output and different agendas into one environment. There is no need to deploy various systems for environmental monitoring, equipment maintenance or readings and energy control. All is in one environment, in which it is then possible to define reactions to different situations.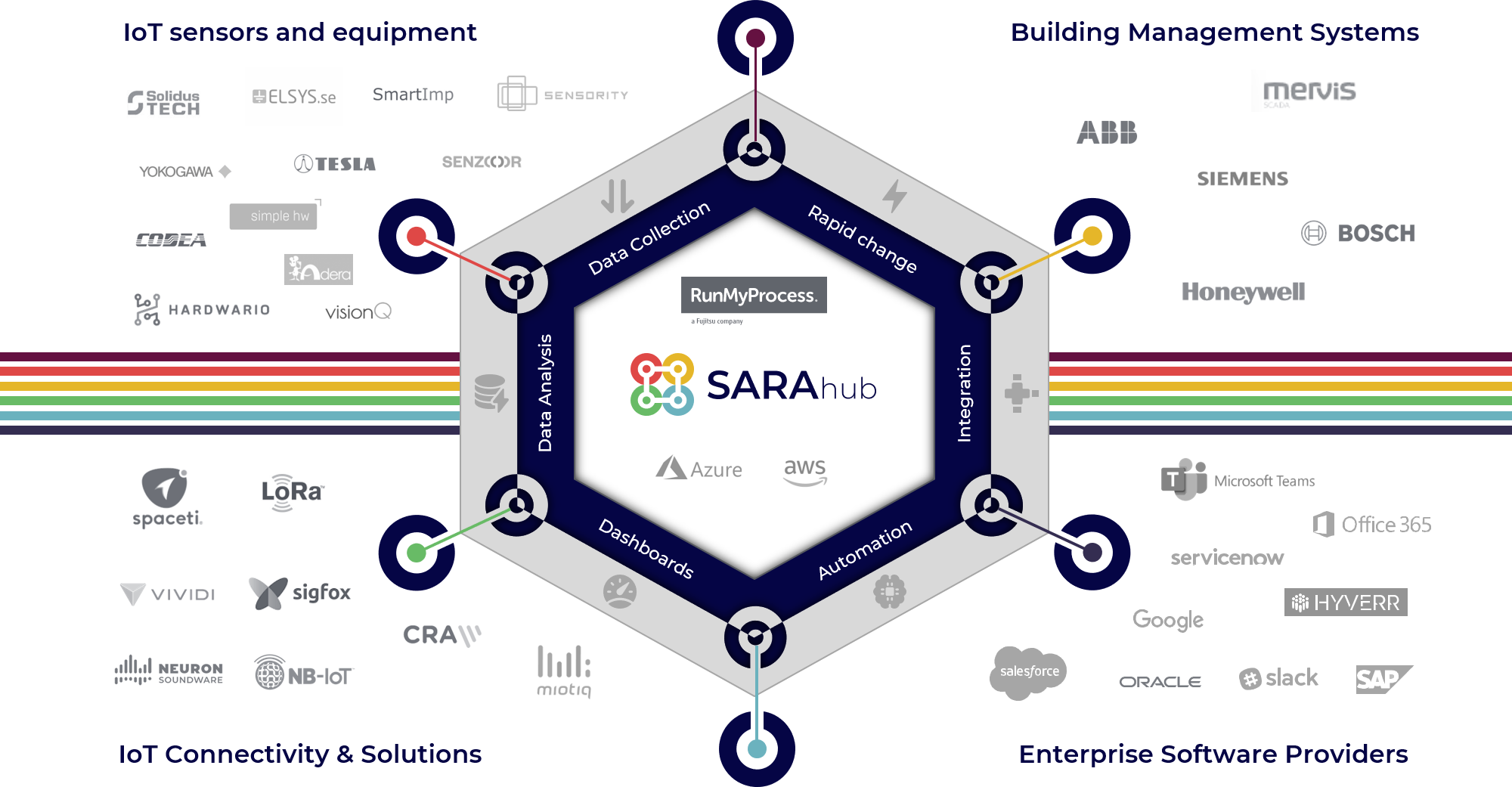 Data collection on assets, environment, energy and people from different sources to ONE place
Visibility of the status of assets and physical operations via digital twin based dashboards.
Automatic response to changes in the situation via alerting and process initiation.
Full integration with existing IT systems and business processes to maximize response.
Automated monitoring and management of your devices and assets without disruption.
Healthy & productive environments to maximize the output of people and assets
Reduced energy and utility consumption with better protection against outside abuse
Smarter Maintenance via prediction and fact-based decisions and automation.
Why SARAhub ?
ONE PLACE for different needs
(you do not need many separated systems and applications)
Strong INTEGRATION to your existing systems and processes
(you save money, time and effort)
Focus on REACTION to automate and being efficient
EASY implementation
(fast, non-invasive, low effort your side)
Start SMALL, but GROW with your needs.
Wide portfolio of build-in use cases
 Healthy and productive ENVIRONMENT
The SARAhub module is the ideal way to reduce your operating costs, by analyzing the real behavior of the space in changing conditions and optimizing its control. It will also increase the productivity of employees through better provision of lighting and thermal comfort. Rapid response to exceeding defined parameters also effectively reduces morbidity. Other benefits include protection of buildings, equipment or goods (e.g. against moisture or overheating) and monitoring of compliance of required parameters with the standard.
Cost savings
Cost savings by analyzing the real usage of physical space in changing conditions (time of year, weather, number of people, …) together with optimization of environmental control (cooling, heating, ventilation, lighting,…)
Increase in productivity| Reduction of morbidity
Increased productivity by ensuring  thermal and light comfort, including response to exceeding defined parameters (temperature, light, humidity, light, noise, CO2…). Reduction of morbidity due to optimized environment (correct temperature, humidity = lower spread of diseases and higher resistance of mucous membranes to respiratory diseases).
Protection of buildings, equipment and goods
Protection of buildings, equipment and goods – control of environmental parameters (humidity, temperature,…) and thanks to the correct response to avoid damage caused by mold, overheating, freezing, spoilage of goods, etc.
Frequent use also for remote surveillance and provision of technical rooms such as server rooms, technical facilities and rooms,  boiler rooms, exchanger stations and others.
Compliance
Ensuring monitoring of compliance of required environmental parameters (temperature, humidity, …) with the standard, including storage for possible audit (food industry, pharmacy, warehouses, working conditions)
Track space usage
Planning for more efficient use (conference rooms, coworking ,…)
Integration of reservation system and heating/cooling
Predictive (depending on the number of meetings/attendees) and reactive  (button) cleaning
Optimization of parking spaces (usage, reservation, sharing,…)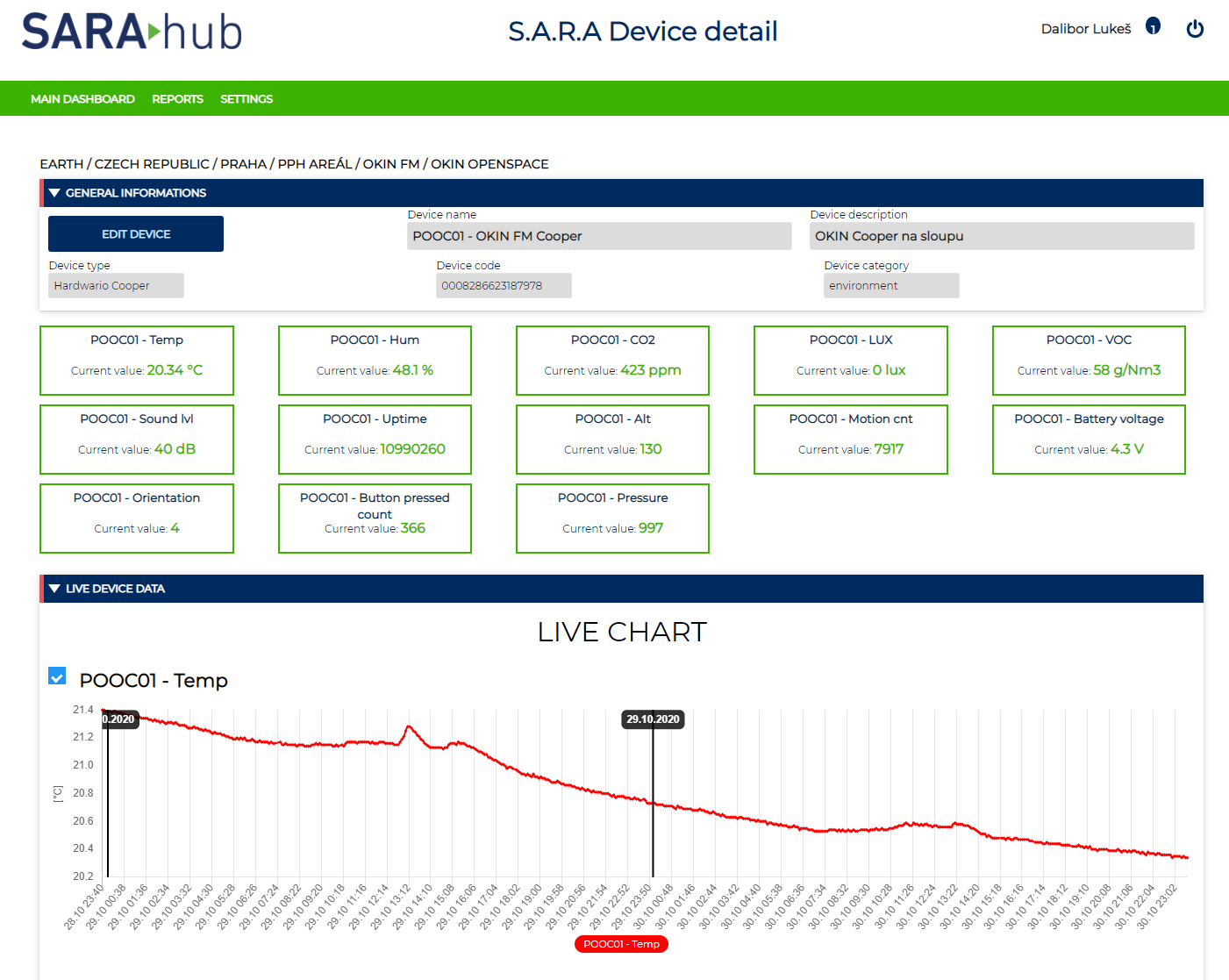 EQUIPMENT and its maintenance under control
SARAhub takes device management and maintenance to a whole new level. Allows monitoring of a device regardless of its status or location. SARA.hub will ensure full control of the use of the device or resource, simplifying planning,  optimization  or possible  cross-charging. Protects devices against unauthorized use or even misuse. On the contrary, it offers the possibility of renting equipment at times when you do not use it yourself, as well as better managed (proactive) preventive maintenance based on the actual condition of the equipment
Track and monitor
Monitor any of your devices wherever they  are.  
Place
Condition (vibration, temperature, position)
Duration of use
Movement (acceleration)
Get an overview of device/resource usage for reposting, scheduling, optimization, …
Prevent misuse
Prevent misuse (unauthorised or improper use) of your devices and devices
Alternatively, allow the device to be used (and reposted) when you are not using it (machines on weekends..)
React
Automatically activated processes in a defined situation – exceeding limits/parameters, incorrect use, abnormal situation,…
Save by predictive maintenance
Preventive and proactive maintenance based on equipment status and usage progress (save costs and downtime)
Perfect overview of ENERGIES
SARAhub simplifies the process of energy reading while eliminating its error rate. It enables more efficient energy distribution to other entities and offers an ongoing consumption audit to demonstrate both status and history. It optimizes energy consumption on the basis of its continuous analysis (including the control of the so-called quarter-hour maximum) while reducing unnecessary costs, which can be caused, for example by water leakage or unauthorized electricity consumption.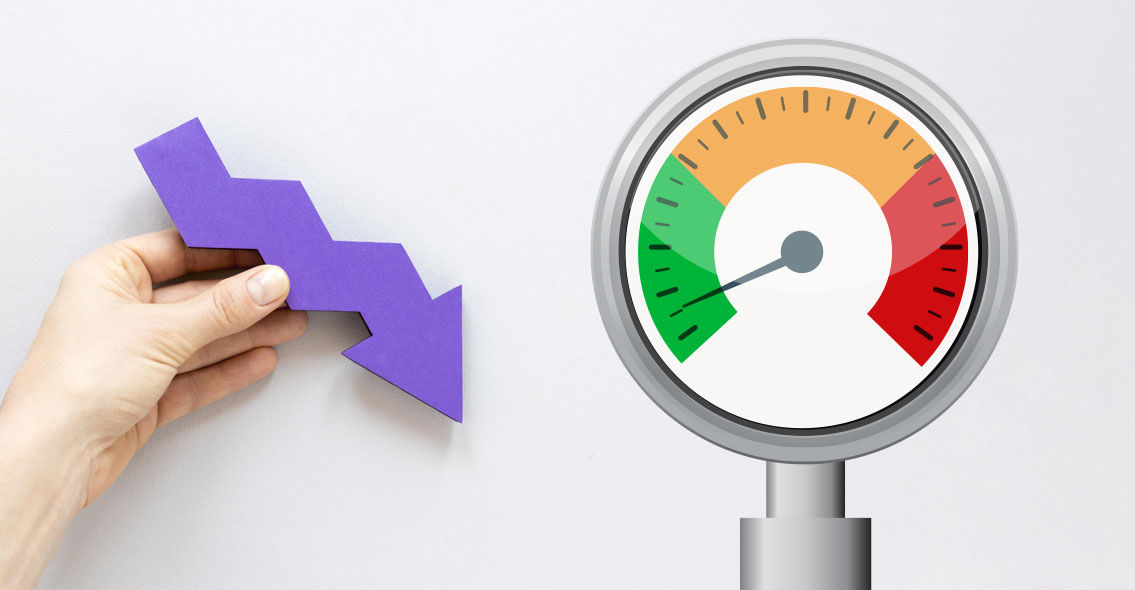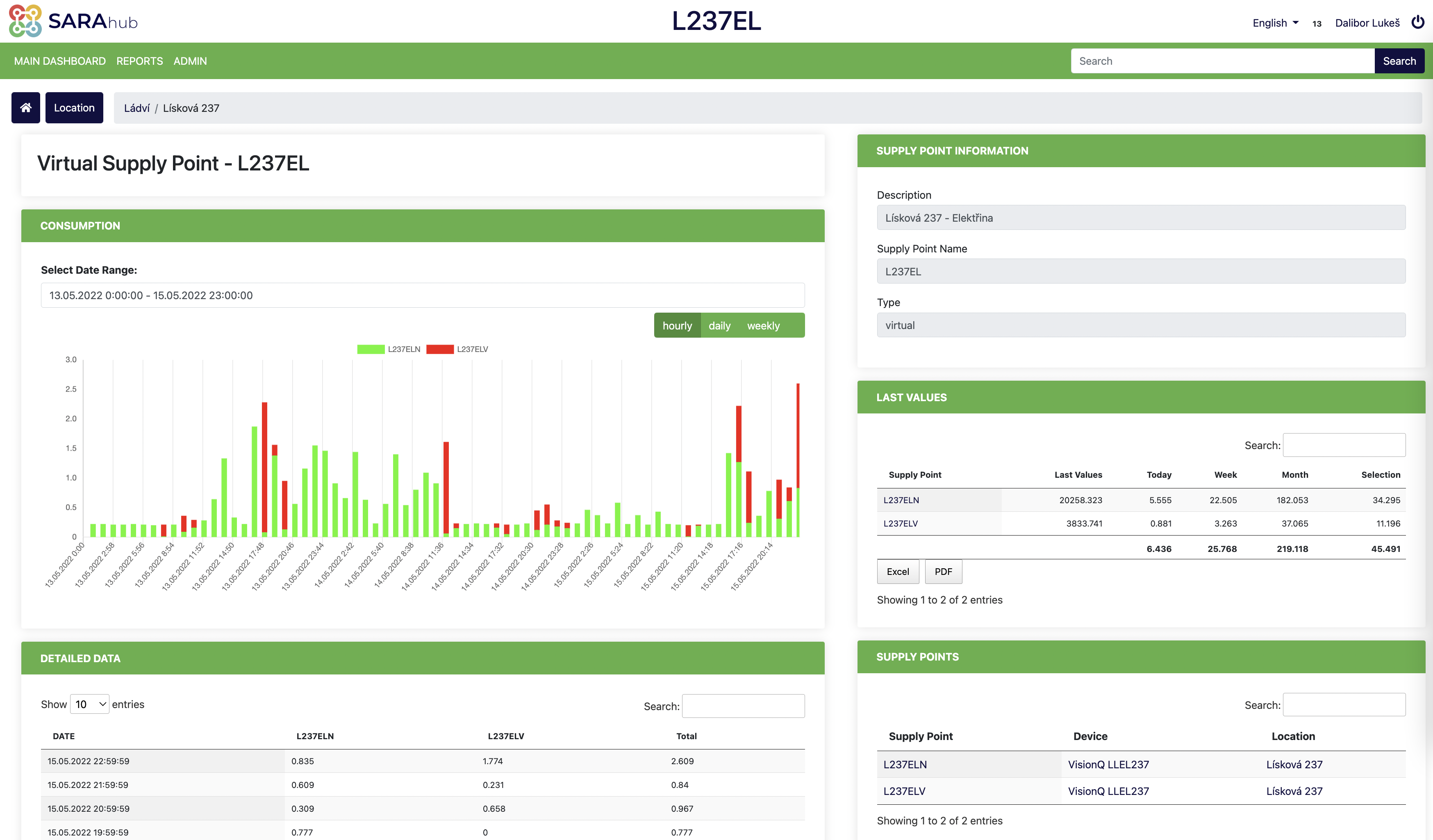 Audit
Audit of consumpion to demonstrate status and history/development 
Billing
More efficient energy billing to other entities (tenants,…)
Effective remote energy readings
Reduction of labor and errors in energy readings
Energy protection
Loss reduction caused by water leakage or unauthorized electricity consumption
Optimization of energy consumption
Optimization of energy consumption based on consumption analysis (incl. Control of quarter-hour maximum)
Take your assets to the next level.